Meet Our Player Development Director

We are pleased to introduce our New Player Development Director - John Rosecrans, PGA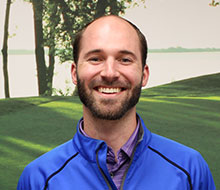 John is a PGA Member and will be at Fox Hollow full-time to help you with all of the following;
Looking to reduce your score by a few shots - John offers golf instruction, both individual, series and group lessons
Looking to upgrade your equipment - schedule a fitting with John and use the TrackMan Technology to assure you are buying the equipment that fits you best.
Don't spend unnecessary money to be fit -

John doesn't charge hundreds of dollars for fitting fees like some fitting centers.
John fits on the range so you can see the most important part of club fitting - Ball Flight.  No screens at Fox Hollow Training Center.
John will credit any fitting fee back to the sale if purchased within 30 days of the fit.  Most indoor fitters will not credit back your fitting fees.
John uses the latest technology to assess your swing and fit you into the best equipment - TrackMan Technology is used by the PGA Tours best players
John loves golf - so if you just want to stop by, meet John and talk golf, we are here for you.

Looking for the Best Deals in Town - we have the best deals in town.  While manufacturers control the pricing of equipment, we offer bonus incentives like range cards and golf certificates for qualifying purchases.
John Rosecrans, previously Assistant Golf Professional at Rocky Point Golf Course is an accomplished amateur golfer with a passion for the game.  In 2007, John was named the Mid-Atlantic PGA Junior Player of the Year and helped lead Liberty H.S. to a Maryland State Golf Championship for 1A/2A schools.  John is a graduate of Towson University and finished the Professional Golf Management Program in 2017.  John is eager to help golfers of all skill levels and ages take their game to the next level and increase their enjoyment on the golf course.